Since the last two days have been about reconciling opposing views, and since today is the anniversary of the death of Albertus Magnus, it would probably be a good time to talk more about him.
Albertus Magnus (c.1200-1280) has only been mentioned so far in the context of
rainbows
, but he was involved in so much more than that. A German Dominican who became provincial of the order in 1254, he became so widely known for his learning that the term
Magnus
(The Great) was attached to his name in his lifetime by contemporaries such as Roger Bacon (also mentioned in the rainbow entries, as well as
here
). Although in the future the Dominicans would be nicknamed
Domini canes
(dogs of the Lord) and be put in charge of rooting out heresy, Albertus would actually spend part of his life writing to
defend
ideas that were considered heretical.
Most of the charges of heresy were coming from the University of Paris. The University issued a series of Condemnations between 1210 and 1277, condemning the teaching of ideas they considered heretical. Paris had no authority to universally condemn these teachings, however. In a twist that might seem very modern, this left other universities open to excellent marketing opportunities. The University of Toulouse invited students with "Those who wish to scrutinize the bosom of nature to the inmost can hear the books of Aristotle which were forbidden at Paris."
Attacking Aristotle was one way to raise the ire of Albertus. He had written commentaries on all available works of Aristotle, bringing that classical author more fully into the realm of accessible discussion. When Paris condemned the teaching of Aristotelian astrology as a threat to the notion of free will, Albertus had to get involved by writing the
Speculum astronomiæ
(Mirror on astronomy).* In this work, Albertus explains (using Aristotle's model of the heavens, of course), how the study of astrology and its predictive ability does not contravene God's Will or Free Will.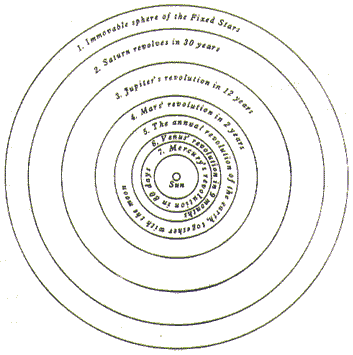 The order of the Heavenly Spheres
Between God's divine Will and human beings are the nine spheres of the heavens. As God's Will passes through each of the celestial and planetary spheres, it is tainted by exposure to those un-divine substances, just as water flowing down a stream can erode the banks and pick up silt. This has two results. One is that what we perceive in our study of astrology here from Earth is altered, meaning we are not looking directly at and anticipating God's intent for us. The other result is that, because the divine influence has been tainted or diluted by exposure to corporeal bodies, its influence is now corporeal; that is, it may affect our bodies, but not our souls. Astrological influence could make a man envious or prideful or lustful, and many people are content to just follow their impulses, but we have the ability to refuse to act on these impulses.
For Albertus, studying astrology helped to forewarn us about the influences that filtered down through the heavens, and gave us a chance to resist them. The Speculum became a central argument in favor of astrology for centuries, claiming that astrology helped us to understand and perfect our use of Free Will.
*
There are numerous medieval works ascribed to Albertus Magnus with little proof, so modern scholars are cautious about claiming authorship; the Speculum has been disputed, but recent scholarship has found sufficient evidence to feel comfortable to claim it was by Albertus.